Annual Pet Exam at Petaluma Veterinary Hospital
The "Annual Pet Exam" at Petaluma Veterinary Hospital

Why an Annual Wellness Exam?
As a part of your family, you want to ensure that your pets are in the very best of health. Unfortunately, the majority of conditions that animals are susceptible to have no obvious symptoms early on. Once these conditions do present themselves many pets may already be suffering and may require extensive medical assistance and veterinary care. Your pet can't tell you what is wrong, but scheduling a regular pet exam can help you to quickly discover the source of a problem, and even prevent pet health problems from arising.

The best, easiest and least expensive thing you can do to keep your pet healthy is to schedule a pet exam (a nose to tail checkup) every year (twice yearly for pets over age 8). Dogs and cats age far faster than people, so significant changes in your pet's health can happen in a short time.

Wellness exams allow our veterinarians to diagnose diseases and conditions early, when they're easier to treat. Often, we can help prevent diseases entirely just by ensuring that your pet get the appropriate vaccinations and preventives. For healthy adult dogs and cats we recommend one visit per year. Puppies, kittens, senior pets, and pets with health issues or illnesses need more frequent checkups.

If you're new to pet ownership, we strongly recommend you book an appointment for your first pet exam within the first few weeks of ownership. Younger animals are more vulnerable to illness, so the initial pet exam will allow us to reassure you of their health and give us a starting point for your pet's medical records. We offer both cat exams and dog exams; both feature an extensive list of health checks that help our veterinarians to ensure your pet is in peak health.


What Does a Pet Examination Include?
Your pet examination will include a physical that looks at some or all of the following:
Abdomen and anal sac examination to check to swellings, bloating, or any other abnormalities.

Bellybutton check in puppies and kittens to ensure there is no hernia.

Examining the condition of the coat and skin - this can indicate overall health of the animal.

Checking the genital area for malformation.

Examination of the heart and lungs, checking for any irregularities such as heart murmurs.

Manipulation of the joints to ensure they are mobile and functioning correctly.

Examination of the ear canals and ear flaps for parasites, infection, growths, or tumors.

Weight Check, where dietary or exercise recommendations may also be made.

Pet Eye Exam. Your veterinarian will check for discharge, redness and abnormal responses to light. They will also examine the optic nerve in the back of the eye.

Full pet dental check up including looking for any signs of periodontal disease.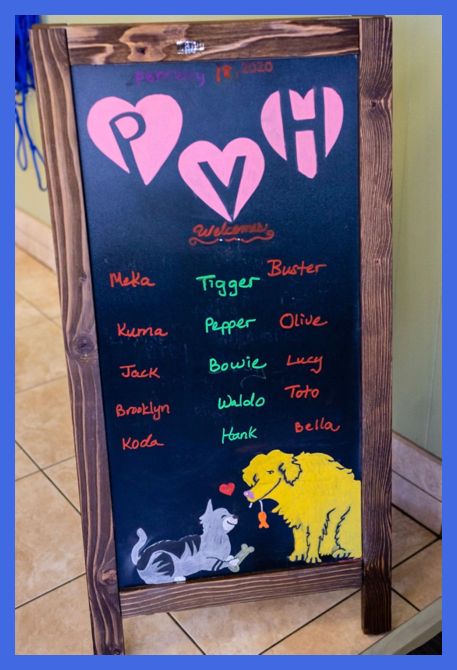 Feline stress
Pet wellness visits can be particularly stressful to cats who are not used to being locked up or outside of their homes. Luckily, our staff at PVH is extremely adept at "fear-free" handling techniques to help frightened felines to relax during the exam. Our cat exams include our nose-to-tail physical, updates on the latest feline vaccines, and access to information about dietary plans for cats and hairball control solutions.
Puppies
We love puppies of all ages and would love to see your good girl/boy during the next annual pet wellness exam.This will help you learn about the latest vaccines and medications available for your dog, as well as ensuring that your pet is in their best health. Our dog wellness exams include a wide array of checks for common ailments and issues based on age and breed, and we're always happy to help you keep your dog vaccinations up to date.

New puppy exams
At your first appointment you are asked to bring any paperwork and vaccine history (previous shots, deworming, etc.) and a fecal sample that we submit for analysis to check for parasites (worms). These tests aren't 100% accurate, so we may give the puppy a broad spectrum dewormer.

​​​​​​​The puppy receives a thorough exam and any vaccines that are due. Core vaccines are rabies and a distemper-parvovirus combination. Non-core vaccines are given based on pet lifestyle- exposure to other dogs, wildlife, livestock, etc.- after discussing with the veterinarian. Parasite control is also discussed: fleas, ticks and heartworm (transmitted by mosquitoes) preventatives. Initial doses of Heartgard (heartworm preventative) and Nexgard (flea/tick prevention) are given FREE and are good for a one month coverage. This is a $30 value. And we discuss any questions or problems the owner is having such as potty training, diet, behaviorial issues, future vaccines, neutering, etc.
Older pets
Annual exams are important for the health and well being of your pets, and none more so than your older pets, who may require blood tests to check their liver, kidneys, and other internal organs. Owners of older cats and dogs may hear more about age based dietary needs and mobility concerns during their pet exam. As your pet ages, our comprehensive vet exams help us to create pet wellness plans that best suit you and your pet, no matter their breed or age.
Routine vaccinations are something that all pets require for their health, and something that you can easily add to your annual vet check up. Our staff will let you know if your pet is up to date on their shots, and will often be able to add these vaccinations to your pet wellness exam. Recommended annual testing such as heartworm testing for dogs can also be taken care of during your pet examination.

Fecal testing
Fecal testing may also be required, and so you may be asked to provide a stool sample from your pet. Fecal testing is vital to allow your veterinarian to check for internal parasites (worms) which live in the gastrointestinal tract of your pet. These parasites can be deadly in pets and can cause health problems in humans, too. Common examples of parasites that a pet's fecal sample can contain include hookworms and roundworms.

Overall wellbeing
Your annual vet exam isn't just about checking the physical condition of your pet, but about checking their overall wellbeing. During your veterinary examination, you will be asked about your dog or cat's regular behavior and disposition, their water intake, diet and eating habits, urination and bowel regularities, and their activity levels. The answers to these questions help us to paint an overall picture of your pet's health to compliment the physical pet examination. If this is your first visit to Petaluma Veterinary Hospital and we do not detect any underlying health concerns during your pet exam, we can use this information as a basis to represent your pet in a normal state of health.
Our veterinarians will work with you to create an individualized wellness program, including a vaccination and prevention protocol specifically for your pet. Services offered include:
Nutrition Consultation
In-house Pharmacy
Prescription Diets (Hills and Royal Canin)
And more!

Call now to make an appointment. 707-762-3511