In House Laboratory Services- Petaluma Veterinary Hospital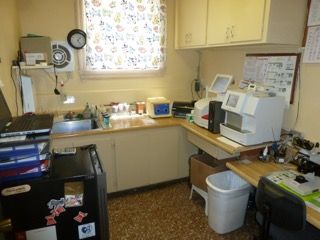 Petaluma Veterinary Hospital is equipped with a state-of-the-art in-house diagnostics laboratory allowing us to run many tests in real time. In addition, we use overnight services from outside laboratories as needed for unique and less common tests.
Having an in-house laboratory means that you don't have to wait for your veterinarian to outsource testing, losing (perhaps critical) time in the process. There are several tests that are commonly run to help determine a diagnose for your dog or cat.

A Urinalysis tests for kidney disease or diabetes. Blood chemistry panels allow us to check the function of your dog or cat's liver, kidney, pancreas and gallbladder. Complete blood counts tell us if your pet is dehydrated or anemic, or showing signs of cancer, autoimmune disease or tick borne diseases.