Meet the Veterinarians at Petaluma Veterinary Hospital in Petaluma CA
Dr. Robert Titchenal - DVM
Dr. Titchenal was raised in San Jose, California. His mother claims that he knew from the time he was a little boy that he wanted to be a veterinarian.

He attended the University of Hawaii on a basketball scholarship and graduated at the top of his class as a Zoology major. He then received his DVM from UC Davis School of Veterinary Medicine, and won the Merck award as the top student/clinician in his class.
Dr. Titchenal and his wife Cindy have been married since 1975 and live in Sonoma CA.

FUN FACTS
Prolific gardener who raises more than 35 varieties of fruit & vegetables
Avid fisherman who can often be found in his waders wandering up streams
Dr. Angela Smith - DVM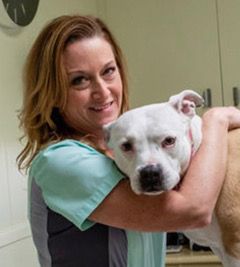 Dr. Angela Smith holds a BS degree in Animal Science from Purdue University and a DVM from Mississippi State University College of Veterinary Medicine.
She practiced for five years in the Chicago suburbs before moving to California and joining Petaluma Veterinary Hospital in 2001. After working with Dr. T. for 15 years, she purchased the practice in April, 2016.
Dr. Smith believes strongly in animal rescue. All her dogs have been rescues, and they have taught her a lot about behavior. Pain management and animal behavior are two of her special interests.
She is trained in low-stress animal handling techniques and passes this on to her staff. These techniques lead to a calmer environment when your pet visits our hospital. The result is fewer anxiety triggers and a better experience for everyone - pet, owner, and staff.
Dr. Smith lives in Petaluma with Hope, her rescue Pit Bull, and Guiness her weiner dog.

FUN FACTS
Rabid Green Bay Packer fan (because her dad grew up in Wisconsin and forced her to be a Packer fan)
Fabled 4-H Grand Champion Guinea Pig owner at age 11 (she still loves to see the occasional guinea pig patient)
Known as "The Seagull"--she will eat (almost) anything
Dr. Kari Kristensen-McCulloch – BVSc
Dr. Kristensen was raised in Los Altos, CA. She earned a BA in Business Economics from Westmont College in Santa Barbara. Then a Bachelor of Veterinary Science degree from the University of Liverpool in the UK. She says "this was a great adventure and very hard work".

After vet school Dr. Kristensen worked in Northern Ireland in a mixed animal practice, then an internship at the University of Cambridge Veterinary School where she gained "great experience and happy memories" doing overnight intensive-care hospital coverage while also supervising final year vet students.

After a stint at another mixed animal practice in Ireland, Dr. K returned to California to complete her American Veterinary Competency Exam and the California Veterinary State Board Exam. After nine years in San Jose and Los Altos working with dogs and cats, she joined the Petaluma Veterinary Hospital. Dr. Kristensen lives in Rohnert Park with her husband Steve and their Golden Retriever puppy, Caz.

FUN FACTS

Likes hiking, reading, travel, and Sonoma County wine tasting

Enjoys backpacking and hopes to take Caz with them on the Tahoe Rim Trail

Husband Steve is rebuilding a 67 Olds 442 convertible; they like taking their 67 Pontiac GTO to car shows